One-Bedroom Apartments for Rent in Downtown Raleigh
It's no wonder that apartments in downtown Raleigh have become such popular places to live. Combining its high quality of life with small-town Southern charm, Raleigh is considered one of the best places to live in North Carolina, but it boasts being the best big city in the Southeast.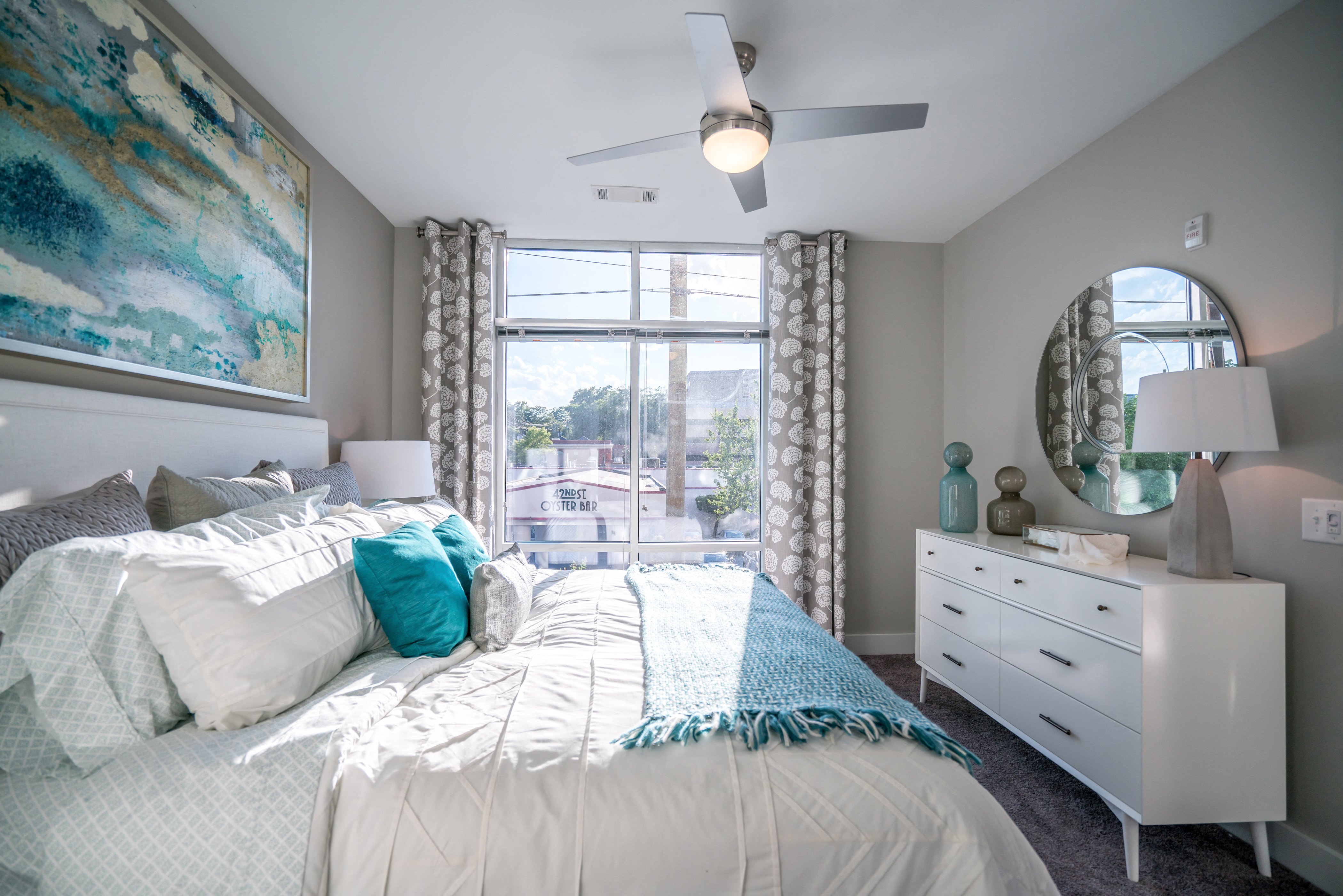 Top-notch apartment living
If you're on the hunt for one-bedroom apartments to rent, Link Apartments® Glenwood South in downtown Raleigh has precisely what you're looking for. Their one-bedroom layouts boast spacious living areas, washer/dryer hookups, and private patios and balconies.
You'd be living in style as Link Apartments Glenwood South's one-bedroom apartments feature oversized windows that make great use of Raleigh's natural light. The kitchens feature granite countertops, designer cabinets, and stainless-steel appliances. Walk-in closets provide an abundance of storage space, and all apartments are equipped with energy-efficient lighting, making things easier on your wallet and more favorable for the environment. Link Apartments® Glenwood South is proud to be an NGBS Green Registered Building.
Are you a proud pet owner? Finding pet-friendly apartments can be a challenge. That's why Link Apartments Glenwood South apartments are all pet-friendly. There is even a dog park on-site where you can take your furry friend out for exercise and socializing. This is also a great way to meet other pet lovers in the community.
More than just an apartment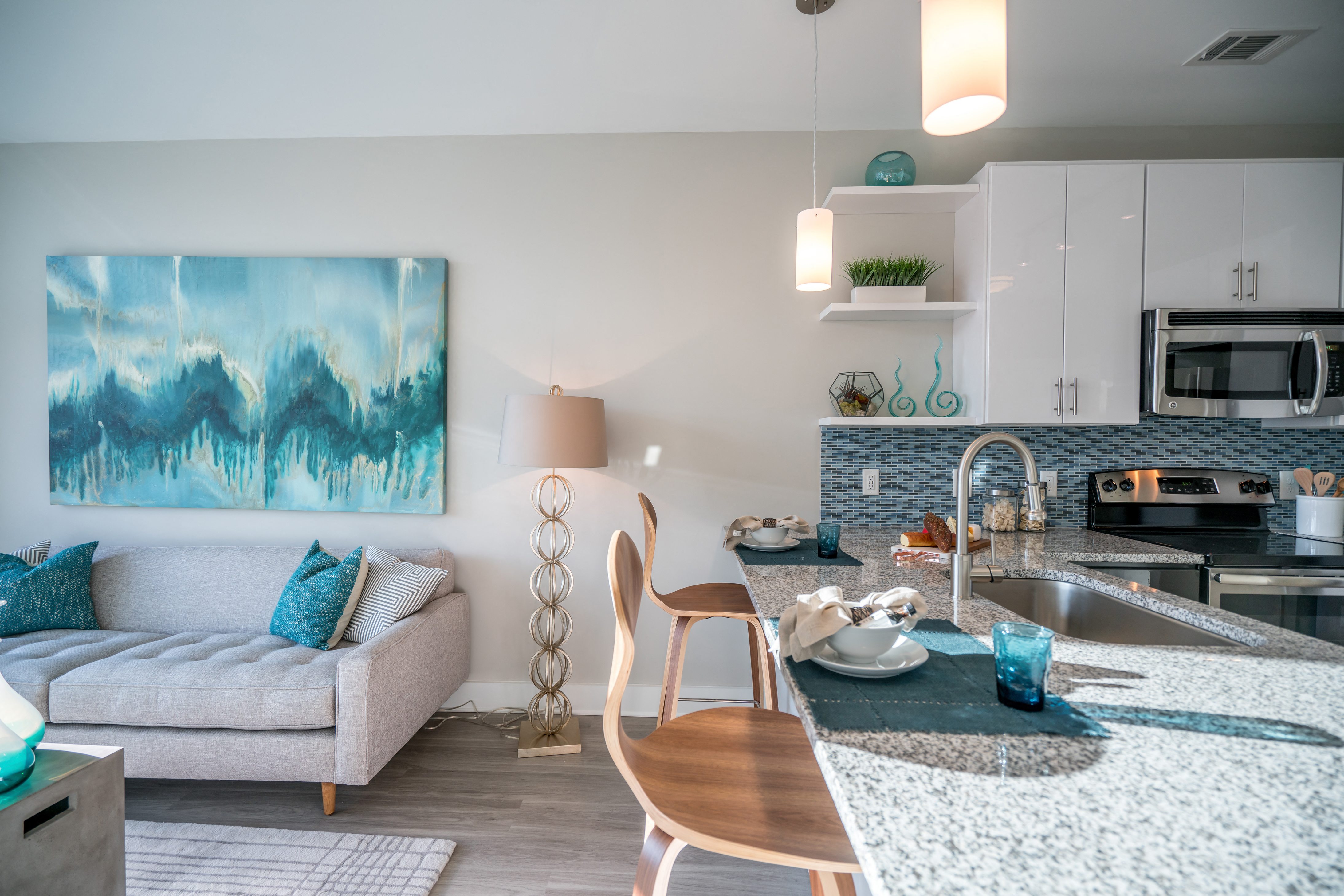 Link Apartments® Glenwood South prides itself on being a community, and as such, they have a lot of conveniences and services to offer its residents.
In keeping with their eco-friendly commitment, Link Apartments® Glenwood South offers electric vehicle charging stations near the controlled-access parking. For the fitness-minded, they have a state-of-the-art exercise center and yoga studio. There is also a cycle center and storage service available, and a saltwater pool for those who enjoy a full-body morning workout.
When it comes to socializing opportunities, Link Apartments Glenwood South has a cybercafe on the premises and a clubroom specifically designed for entertaining. It even has a Starbucks coffee bar. If socializing outdoors is more your thing, enjoy a choice of outdoor grills and recreation areas.
Come for the apartments, stay for the city living
Link Apartments® Glenwood South is only a block away from downtown Raleigh's Glenwood South thoroughfare. In addition to some of the city's most popular restaurants, retail stores, and entertainment venues, this revitalized former warehouse district also highlights the community's commitment to public art and beautification projects.
You will never be bored living in downtown Raleigh.
Schedule a tour today!
Your search for the right living space for rent in Raleigh, NC, is over. Schedule a private tour with us to learn more about our community and how it will make your downtown lifestyle everything you've dreamed it could be.
Testimonials
I cannot say enough good things about this place and the people in the leasing office! It's a fantastic location close enough to the restaurants and social life of Glenwood and Downtown but removed enough to avoid the noise and traffic. The apartments are designed beautifully with a nice modern touch. What set this place apart from other apartments I visited was how light all the units are. Additionally, the maintenance crew here is amazing.

- Google
I really enjoy living at Link Glenwood south apartments! The staff are friendly and so helpful, always answer questions very quickly. The units are modern and spacious. The amenities are very nice and never too crowded. It's a small, tight knit community of professionals and lots and lots of dogs!

- Apartment Ratings
As parents of a prospective resident our concern for our daughter's security, convenience, & accommodations were our primary factors in exploring apartment opportunities on behalf of our daughter. The staff at Link were incredibly professional, extremely accommodating, & possessed both enthusiasm & courtesy in helping facilitate the leasing process. We are all excited about this transition in our daughter's career, & know that Link will provide an environment compatible with this process.

- Google
I love living here! The leasing staff are so courteous and helpful! I love the Keurig in the club room, the view from my balcony, and the free office cookies! Come live at Link!

- Facebook
Awesome. Great staff. Clean quiet building. Close to everything. Good pool and lounge. Great parking. Pet friendly. Responsive staff. Community events. Helpful. Good balconies. Clean and spacious and bright apartments.

- Apartment Ratings